Vertically adjusted flag for sidewalks and trails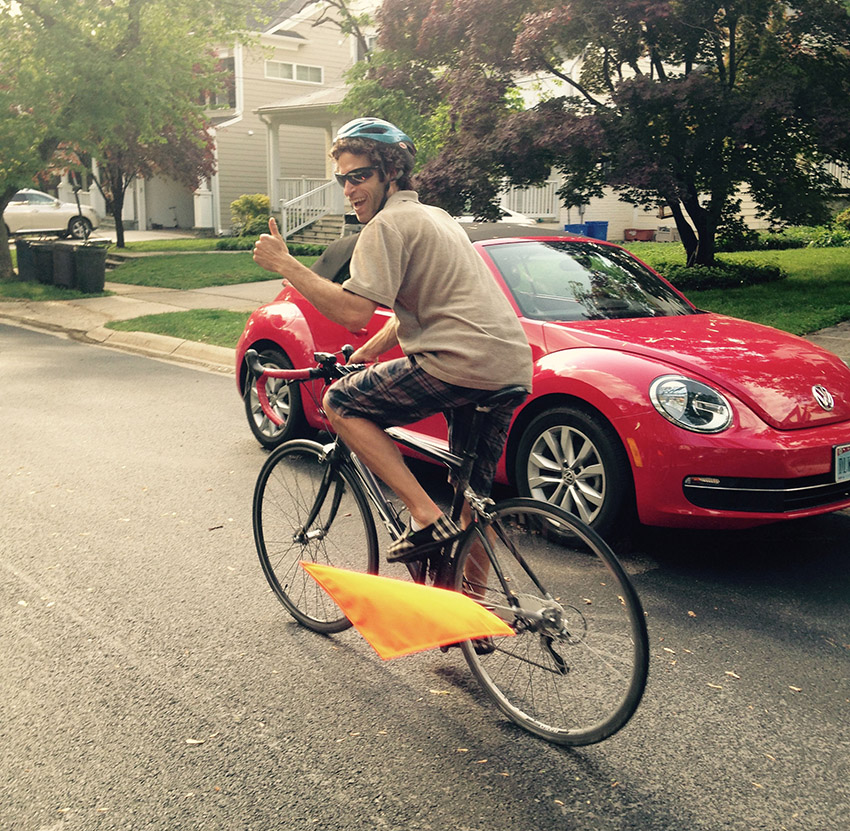 Horizontally adjusted flag for roads
THE THREE FOOT FLAG
Safe & easy to use!
Riding on the road is dangerous. Either cars don't see you or don't care to see you.  Drivers do not know the law about passing cyclists or don't care about the law. Oftentimes, it feels like you are a sitting duck out there, waiting for one too many aggressive drivers to make a fatal mistake.
Biking on the road should be a fun and revitalizing experience, but oftentimes turns into a frustrating anger-fest with drivers clipping you, yelling at you, cutting you off, or worse.
Well, now you can take the road back for you and your bike and nail your commute with less aggravation and more confidence. The Three Foot Flag is a solution for bike commuters everywhere.
The adjustable flag is easy to spot for drivers and, when adjusted horizontally, can visibly demonstrate the safe and legal three-foot passing distance to drivers. It is like creating your own bike lane. What a relief to be out there with such visibility and have the freedom to just ride.
TOP TEN SAFETY FLAG BENEFITS
The flag is easily adjusted back to a standard vertical position for sidewalk and trail riding.  The flag can help bikers and cars share the road and save the lives of cyclists everywhere.  And it's not only for commuters…
KIDS
Worried about your kids riding around your neighborhood or your teenager riding his or her bike to school? Vastly increase their visibility with the adjustable three foot flag.  Guarantee that cars can see your children coming and going and give them the space they need to grow up safe and stay active with confidence.
TRAINING WHEEL BIKES
Like to take your young ones on the road with their training wheel bikes? Have confidence that your blindside is protected with the Three Foot Flag. When you take your lane with our brightest adjustable flag, cars can see you and your child coming and going. They MUST give you a wide berth when passing.